At the beginning of the February, Johnson & Johnson Vision, a global leader in eye health, announced that the FDA approved the TECNIS EyhanceTM and TECNIS EyhanceTM Toric II intraocular lens (IOL) for the treatment of cataract patients in the United States. Dr. Farhan Irshad and the Eye Clinic of Austin team were the first to bring the revolutionary new Eyhance intraocular lens to Austin earlier this week.
What is the TECNIS Eyhance IOL?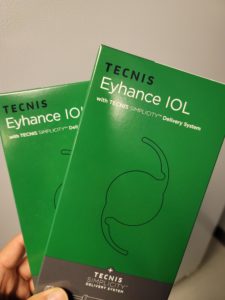 The TECNIS® family of IOLs is a line of innovative monofocal technology designed to slightly extend the depth of focus in patients with cataracts. TECNIS has been an industry-leading platform for the last two decades with monofocals, multifocals, extended depth of focus (EDOF), and IOLs for those with or without astigmatism. The latest breakthrough in this technology (the TECNIS Eyhance and TECNIS Eyhance Toric II) allows patients an opportunity for more natural vision after cataracts surgery. What makes the TECNIS Eyhance IOL special is that it can deliver significantly improved intermediate vision along with excellent distance vision.
Defining the future of monofocal intraocular lenses
The TECNIS Eyhance first hit the market in Europe two years ago and became commercially available in Latin America and Canada in the summer of 2020. We're thrilled that TECNIS Eyhance and TECNIS Eyhance Toric II are now commercially available in the U.S., allowing us more advanced treatment options to offer our patients.
The newest additions to the TECNIS® family of IOLs utilizes a breakthrough refractive surface that is designed to:
Slightly extend the depth of focus through the unique shape of the lens
Deliver better image contrast in low light TECNIS Eyhance IOLs deliver 30% improvement in image contrast compared to AcrySof IQ SN60WF at 5mm
Provide safe and easy delivery using the new TECNIS Simplicity® system that streamlines lens delivery and protects against contamination
Thanks to its innovative approach, the TECNIS Eyhance IOL is being referred to as a "next-generation monofocal," which is posed to be the lens of choice for both patients with and without astigmatism. Johnson & Johnson Vision's Chief Medical Officer and Global Head of Clinical and Medical Affairs, Dr. Rajesh Rajpal, explains that the TECNIS Eyhance joins low-light performance with refractive surface design while the TECNIS Eyhance Toric II lens was created with a new squared and frosted haptic design to better treat cataract patients with astigmatism.
Who is the TECNIS Eyhance IOL for?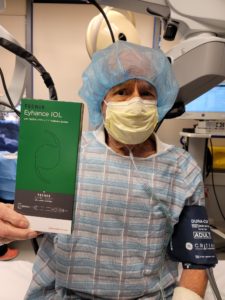 This innovative new treatment option is appropriate for patients undergoing or recovering from cataract treatments which are seeking vision correction and removal of a cataract. This option can greatly reduce or eliminate the need for glasses altogether.
Another exciting aspect of this innovative IOL is the TECNIS Simplicity® Delivery System which is used to assist in inserting the TECNIS Eyhance™ IOL for the visual correction of aphakia in adults who have had a cataractous lens removed via extracapsular cataract extraction. In the TECNIS Eyhance™ Toric II IOLs, the TECNIS Simplicity® Delivery System assists in the visual correction of aphakia and pre-existing corneal astigmatism of one diopter or greater in adult patients with or without presbyopia and have had a cataractous lens removed by phacoemulsification and may be seeking a reduction in residual refractive cylinder. Both treatments are by prescription only.
Learn more about the TECNIS Eyhance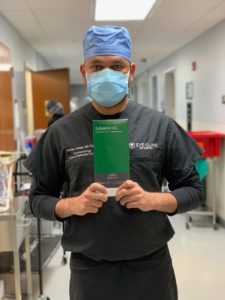 The team at Eye Clinic of Austin is ecstatic that our patients will be among the first to experience this new lens and see instant benefits and excellent vision compared to other monofocal lenses as our cataract surgery patients seek more natural vision.
If you'd like to learn more about TECNIS Eyhance™ and TECNIS Eyhance™ Toric II IOLs, schedule an appointment to meet with Dr. Irshad and learn if this lens is a good choice for you.