Cataract surgery is one of the most common procedures performed by eye surgeons in the US. With over 3 million cataract surgeries each year, it is considered to be one of the safest and most effective of all surgical procedures.
When to Have Cataract Surgery
In order to know when to have cataract surgery, a comprehensive eye exam is required. If the cataract is not yet affecting vision, then surgery may be able to be delayed for a year or more. However, it is extremely important to schedule eye exams each year to monitor the cataract's progression.
Cataract Surgery at Eye Clinic of Austin
Superior Surgeon
Dr. Farhan A. Irshad is one of the most skilled ophthalmologists in Central Texas. He has been voted an Austin Top Ophthalmologist and works hard to provide best-in-class eye care while ensuring patients feel comfortable and confident. Dr. Irshad also understands the importance of determining what lens will work best for each patient's unique eyes and lifestyle.
To hear from real Eye Clinic of Austin patients about their cataract surgery experience, please visit our Video Patient Testimonials page.
Superior Technology
Eye Clinic of Austin offers the most advanced technology for cataract surgery, the VERION™ Image Guided System.
A new era of refractive cataract precision, the VERION system allows the eye surgeon to minimize transcription errors and provide the best precision and accuracy. The system takes important measurements of the eye and captures high-resolution digital images of the eye in one step. Additionally, the VERION provides comprehensive astigmatism management by providing accurate measurements for astigmatic IOL's and enabling more accurate surgery with image guidance for the best placement of the astigmatic IOL in the eye.
The first step to cataract surgery at the Eye Clinic of Austin is to schedule a cataract consultation.
At the cataract consultation we discuss vision issues, refractive options, and what to expect from surgery. We review your contact lens and/or eyeglass history and run tests to determine the severity of your cataract. Eye Clinic of Austin uses the most advanced technology today to insure we take proper measurements during this consultation. The following are some of the tests we use to measure:
Holladay IOL Consultant
The Holladay IOL Consultant is a database program which assists Eye Clinic of Austin's surgeons with intraocular lens power calculations. Absolutely one of the best calculation methods, this system also allows our eye surgeons the ability to calculate surgically-induced astigmatism and back-calculating values to understand the source of refractive surprises.
LENSTAR LS900
The LENSTAR LS900 is a device that in one single measurement can provide a patient's lens thickness, lens position, and retinal thickness.
Once testing and measurements are complete, one of our eye surgeons will discuss the recommended procedure for your eyes. The fee for your consultation will be billed to your insurance company; it is usually, but not always, covered by insurance. This 2-2½ hour dilated consultation typically includes a complete review of overall eye and systemic health, plus an assessment of other eye conditions and an evaluation of the retina.
After the best procedure has been determined, we can schedule a procedure date and any additional pre-operative testing required.
About Refractive Lens Exchange
Refractive lens exchange (RLE), also frequently called clear lens exchange or custom lens replacement, is an advanced procedure that is similar to cataract surgery — both treatments are designed to replace the eye's natural lens with a specialized intraocular lens. The difference with RLE is that the natural lens being replaced during this procedure is not clouded.
Many benefits accompany RLE, and it may be an ideal solution for patients that may not be able to receive other types of refractive procedures. A major advantage of RLE is its ability to help patients eliminate or significantly reduce their dependence on corrective eyewear. Glasses and contact lenses, while providing vision correction, can be a physical hassle for many patients, especially those with active lifestyles. For example, glasses can break or fog up in certain environments. Individuals who undergo RLE have the freedom to enjoy crisp vision in any situation.
Am I a Refractive Lens Exchange Candidate?
If you or someone you know has been suffering from the following symptoms or conditions, you might be a candidate for refractive lens exchange or custom lens replacement if you:
Are over the age of 40
Have moderate to severe Myopia (Nearsightedness)
Have moderate to severe Hyperopia (Farsightedness)
Have moderate to severe Astigmatism
Have been told you are not a good LASIK candidate
Are having trouble reading up close
Refractive Lens Exchange eye surgery is quick, and relatively painless as well. The surgery itself takes 10-15 minutes for each eye. During the procedure your eye doctor will replace the natural lens of your eye with an Intraocular Lens Implant (IOL). There are multiple IOLs which serve various vision correction needs. You and your eye doctor will discuss your vision problems and decide which IOL is the best choice for you. There are toric IOLs, monofocal IOLs, multifocal IOLs, and light adjustable IOLs. After your procedure you may notice some minor side effects, such as glare, ghosting, and radial glare and flare. Contact us today to schedule your procedure!
Choose from a Variety of Lenses
After deciding to get RLE, the next step is to choose your replacement lens, also known as an intraocular lens (IOL). These lenses come in many types and provide different corrective options for your post-operative vision. Our skilled team of experts will help you determine which lens is best for your needs and lifestyle. Choices include:
Monofocal Lenses: These lenses provide clear vision at a single distance: near or far. Many patients decide to set their monofocal lenses for distance vision and use reading glasses for tasks that require clear vision up close, such as reading or texting. This helps most patients greatly reduce their need for glasses.
Multifocal Lenses: This type of IOL has different corrective zones, similar to bifocal eyeglass lenses. Patients who choose multifocal lenses are able to see clearly up close and at a distance, with some multifocal lenses providing clear intermediate vision.
Toric Lenses: Patients with astigmatism may benefit from toric IOLs, which contain additional correction for those with the condition.
Light Adjustable Lenses: The Light Adjustable Lens (LAL) is the only premium intraocular lens that allows you to customize your vision after cataract surgery. Other standard intraocular lenses are not customizable and cannot be modified after your surgery, giving the LAL a unique advantage. Patients who select this lens may experience less anxiety about the decisions surrounding cataract surgery. Additionally, the LAL allows patients to have more control over their vision outcome due to the lens's post-surgical adjustability.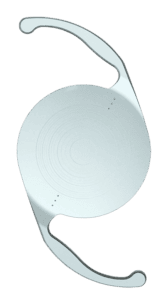 PanOptix Trifocal IOL: ThePanOptix® is the only FDA-approved trifocal lens. With a trifocal lens, patients can see well at all distances, including up close, far away, and everything in between.
The PanOptixsup® is a premium lens that enhances both quality and your range of vision. For patients, your vision will be sharp and vivid at any distance you need to see.
Benefits of the Clareon PanOptixsup® trifocal lens include:
The possibility of achieving 20/20 vision up close, intermediate, and far away
Sharper vision, so you're less likely to need glasses
Experience high-definition vision with more vibrant, brighter, and vivid colors than ever before
You'll no longer need to strain to focus, instead seeing things around you without blurry zones
Being less bothered by glare and glistening when you're around bright lights
Besides being a premium IOL, the Clareon PanOptix® trifocal lens is also available in a toric model. If you have astigmatism, you can also experience the benefits of the Clareon PanOptix® trifocal IOL.
About the Procedure
Safe and effective RLE is performed as an outpatient procedure, meaning you may return home the same day to recover. It can be completed in less than an hour and you will not feel any pain. A small incision on the eye will be made so that the natural lens can be gently broken up and removed. Your new IOL is inserted through the same incision, which will naturally seal shut.
Recovery
After your procedure, your vision may be blurry, so you will need someone to drive you home. Rigorous activities should be avoided for the first few days while you rest. You will notice your vision improving hours to days after surgery, with final results appearing in subsequent weeks, after the eye has healed completely.
No Cataracts Down the Line
The risk of developing cataracts later in life is eliminated when patients receive RLE. Cataracts only develop on natural eye lenses. When this lens is replaced with RLE, cataracts are no longer possible, allowing patients to enjoy clear vision and peace of mind regarding their eye health.
RLE vs LASIK
Both RLE and LASIK have a similar objective: to provide a dramatic improvement in vision. However, RLE appeals to patients 40 and older who may have developed age-related farsightedness, as well as those who may not be candidates for LASIK.
Risks
True of any surgery, cataract surgery can pose some risks like infection or bleeding. However, it is one of the most safest and effective of all medical procedures. If you are taking certain medications that can increase the risk of bleeding, we may ask you to stop taking the medicine temporarily before cataract surgery. It's also very important to wash your hands before touching the eye and keep the eye clean to avoid any infection.
Video Patient Testimonials
We will let the results speak for themselves. Head over to our video patient testimonials page to hear some of our patients talk about their experiences in their own words.
Cataract Educational Videos
If you'd like to learn more about cataract surgery, we have a series of short educational videos for you. Visit this link or text SB Austin to 72000 to access the videos.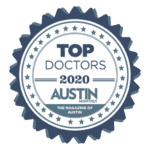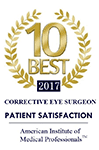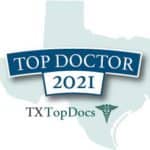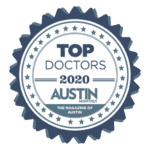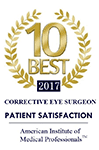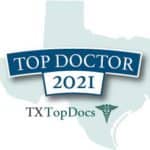 Testimonials
Cataract Surgery Patient 7
"He has the best bedside manner, his staff is wonderful, and I'm so glad I did it with him — he's great."
Cataract Surgery Patient 6
"The surgery was miraculous! I mean, as soon as he was through, I could already see better. I just can't say it enough — I'm so happy with it."
Cataract Surgery Patient 5
"When I got the surgery, even as my eyes were healing, I noticed things were very vivid, very clear."
Cataract Surgery Patient 4
"The surgery with Dr. Irshad was like nothing. It was over so quickly! I didn't have to do anything except just lay there and it was really easy."
Cataract Surgery Patient 3
"Your eyes are pretty precious and you have to trust the people that are going to be working on them, and definitely the group here is great."
Cataract Surgery Patient
"My vision is totally clear. I can see everything. Everything is just plain as day... It was effortless. Everything went so smoothly."
Cataract Surgery Patient 2
"The whole world is a lot crisper and clearer and more beautiful to me right now... The whole practice is just professional and wonderful to deal with and completely gave me confidence. I've sent a few people over here already. I rave about this place."
{"video_yurl":"false"}
Eye Care Blog
After deciding to undergo lens replacement surgery, the next step for patients is to choose the lens that is most compatible with their vision goals and lifestyle. The team at Eye Clinic of Austin offers patients a range of intraocular lenses, or IOLs. With so many choices, some patients may not know where to begin […]

Refractive lens exchange (RLE) is an innovative vision correction procedure that can eliminate or significantly reduce dependence on eyeglasses and contact lenses. RLE is designed to address a number of vision issues, such as myopia, and is often a great option for patients who are not candidates for other laser vision correction procedures. The skilled […]

Every person's eyes are unique and those considering cataract surgery want effective solutions for vision correction. The EVO Implantable Collamer Lens (EVO ICL) is often an ideal choice for patients with moderate to severe nearsightedness. When the ICL is used in cataract surgery, the result is clear vision and reduced dependence on glasses and contact […]