At Eye Clinic of Austin, our eye doctors are dedicated to providing the most advanced medical technology available for the absolute best in Texas eye care and surgery.
Farhan A. Irshad, MD, FACS, Irina Volosko, MD, and Melanie Prosise, OD strive to exceed patient expectations in quality of care as well as friendly service.
Farhan A. Irshad, MD, FACS
Prior to joining Eye Clinic of Austin, Dr. Irshad practiced at Wallace Eye Associates in Alexandria, Louisiana as Director of Cornea and Refractive Laser Surgery and continues to serve as an Associate Clinical Professor of Ophthalmology at Tulane Medical Center. He also serves on the medical advisory board at Southern Eye Bank. Read more
Irina Volosko, MD
Joining in 2022, Dr. Irina Volosko is Eye Clinic of Austin's newest member of the medical staff. She has authored several articles in various peer-reviewed publications over the last several years, and specializes in medical and surgical management of Glaucoma and several other eye conditions. Read more
Melanie Prosise, OD
Having been a part of Eye Clinic of Austin's family since 2002, Dr. Melanie Prosise knows the importance of providing the proper prescription for her patients. Dr. Prosise has extensive experience in contact lens fitting and caring for patients after cataract surgery and refractive surgery. Read more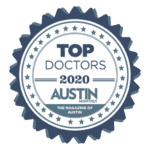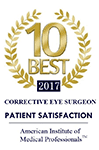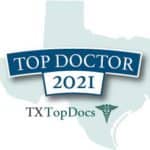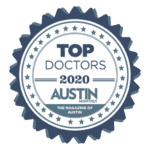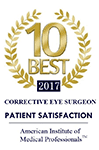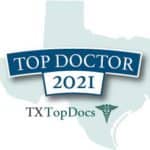 Testimonials
Cataract Surgery Patient 7
"He has the best bedside manner, his staff is wonderful, and I'm so glad I did it with him — he's great."
Cataract Surgery Patient 6
"The surgery was miraculous! I mean, as soon as he was through, I could already see better. I just can't say it enough — I'm so happy with it."
Cataract Surgery Patient 5
"When I got the surgery, even as my eyes were healing, I noticed things were very vivid, very clear."
Cataract Surgery Patient 4
"The surgery with Dr. Irshad was like nothing. It was over so quickly! I didn't have to do anything except just lay there and it was really easy."
Cataract Surgery Patient 3
"Your eyes are pretty precious and you have to trust the people that are going to be working on them, and definitely the group here is great."
Cataract Surgery Patient
"My vision is totally clear. I can see everything. Everything is just plain as day... It was effortless. Everything went so smoothly."
Cataract Surgery Patient 2
"The whole world is a lot crisper and clearer and more beautiful to me right now... The whole practice is just professional and wonderful to deal with and completely gave me confidence. I've sent a few people over here already. I rave about this place."
{"video_yurl":"false"}
Eye Care Blog
Although the warmer months are a great time to head outdoors, UV-related eye injuries can take place year-round, and some of these injuries can even threaten your vision. This is why it is important to take appropriate measures to protect your eyes from UV rays early on, which can save the delicate structures within the […]

Glaucoma is often called the silent thief of sight because it gradually damages the eyes before there are any noticeable symptoms. The condition affects millions of people around the world and is one of the leading causes of blindness. Patients often wonder, then, how it's possible to track the development of glaucoma and prevent it […]

After deciding to undergo lens replacement surgery, the next step for patients is to choose the lens that is most compatible with their vision goals and lifestyle. The team at Eye Clinic of Austin offers patients a range of intraocular lenses, or IOLs. With so many choices, some patients may not know where to begin […]