Cataract Surgery is a safe and effective procedure that replaces the natural lens with an artificial one, called an intraocular lens (IOL). This requires the patient to choose from a number of IOLs, most of which come in a fixed range of powers. Before your surgery, eye measurements are used to set the appropriate power of your new lens, However, the Light Adjustable Lens (LAL) is the only lens that can be adjusted after your cataract surgery, allowing your vision to be optimized. The experts at Eye Clinic of Austin are pleased to offer LAL as a lens option for their patients. Below are things you should know about this cutting-edge technology.
The Light Adjustable Lens Can be Adjusted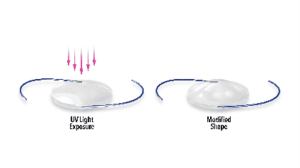 The LAL can be non-invasively adjusted after being implanted into the eye. After your cataract surgery when your eyes have completely healed, you will have a second appointment where you will preview different vision outcomes with one of our skilled eye doctors. Once you have selected the exact vision you want, the lens is then treated to prevent future changes to your vision, leaving you with optimal vision that you can enjoy right away.
Reduced Dependence on Glasses After Cataract Surgery
Some patients find that they still need glasses in certain situations following their cataract surgery. This is because in some patients 20/20 vision cannot be achieved. The position of the lens after the eye has healed is estimated before surgery, but the true position after the eye has healed may differ slightly. LALs essentially eliminate this problem since they are adjusted after the eye has fully healed from cataract surgery, meaning it is possible for the patient to achieve 20/20 vision and reduce or eliminate their dependence on glasses.
Adjusting the Lens is a Quick and Easy Process
The LAL is adjusted over a number of safe, convenient, and effective light treatments. These treatments are performed in-office where UV light is delivered via a specialized device known as a Light Delivery Device (LDD). This treatment allows one of our skilled doctors to make refinements to your vision as you preview each outcome. Approximately three to five sessions may be needed, and each treatment takes about 90 seconds to complete. The exact number of treatments you need depends on your desired outcome.
Optimal Vision in Austin
Achieve the best vision possible after cataract surgery with the Light Adjustable Lens. If you are ready to learn more about your options for cataract surgery, contact our office or schedule an appointment online today.