At Eye Clinic of Austin, we use the most advanced technology available for LASIK eye surgery. Our eye surgeon, Dr. Farhan A. Irshad is highly experienced and believes in first determining if LASIK is the right option for you based on a number of different factors. Our team is committed to a no-rush, no-pressure approach.
The first step to LASIK at Eye Clinic of Austin is to schedule a free LASIK consultation for a thorough examination of your eyes. At this consultation, we take measurements needed to determine if your eyes are healthy and well suited for LASIK or not. The eye surgeon who will perform the surgery also meets with you to answer any questions and ease concerns.
What is LASIK Eye Surgery?
LASIK eye surgery (also referred to as laser eye surgery or laser vision correction) is an eye surgery performed by an ophthalmologist who uses a laser to reshape the eye's cornea in order to improve visual acuity. LASIK corrects the three most common eyesight errors – nearsightedness, farsightedness, and astigmatism.
Our LASIK Technology
At Eye Clinic of Austin, we first use a digital mapping system to capture each eye's unique imperfections. This advanced technology creates a detailed 3D map of the cornea's surface, which our surgeon then uses to detect abnormalities, or potential problems, that may prevent successful LASIK surgery.
For the actual surgery, we use advanced laser technology – a combination of the Intralase™ laser and the Wavelight Allegretto excimer laser. All-laser LASIK is the most advanced technology for LASIK. The advantage of this advanced technique is more accuracy, stability, and greater patient comfort.
To learn more about the LASIK technology at Eye Clinic of Austin, please contact us or schedule a free consultation. We can also send you our free LASIK Guide, which provides greater detail about our technology and the surgery.
Recovery & Aftercare
Recovery from LASIK is extremely rapid. Most patients return to normal activity the very next day, and are able to return to work within 24-48 hours after surgery. When returning home, it's recommended to take a 2-hour nap, which will help jump-start the healing process. Patients are also prescribed eye drops that will reduce the risk of infection, control post-operative inflammation and improve comfort and healing.
The refractive errors corrected by LASIK stay corrected for the rest of your life. Since the cornea is living tissue there can be minor fluctuations and occasionally the need for enhancements as the cornea adapts following the procedure. These are a normal part of the post-operative process.
Around the age of 45, a condition known as Presbyopia can begin to occur. Presbyopia is a result of aging and regardless if you've had LASIK, you will likely still need reading glasses due to the reduced flexibility of the lenses of your eyes. However, even presbyopia can be effectively handled through a special LASIK technique known as monovision that has given thousands the ability to see both close up and far away.
Cost
For many patients cost can be a concern when deciding whether or not to have LASIK eye surgery. To make the surgery more affordable, Eye Clinic of Austin offers many payment options which allow for patients to pay over time. Learn more about payment options for LASIK.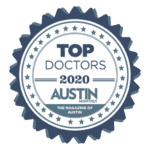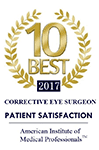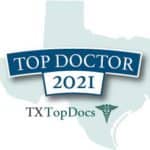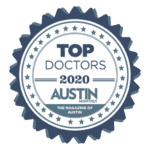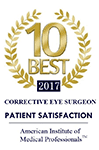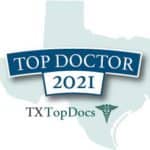 Testimonials
Cataract Surgery Patient 7
"He has the best bedside manner, his staff is wonderful, and I'm so glad I did it with him — he's great."
Cataract Surgery Patient 6
"The surgery was miraculous! I mean, as soon as he was through, I could already see better. I just can't say it enough — I'm so happy with it."
Cataract Surgery Patient 5
"When I got the surgery, even as my eyes were healing, I noticed things were very vivid, very clear."
Cataract Surgery Patient 4
"The surgery with Dr. Irshad was like nothing. It was over so quickly! I didn't have to do anything except just lay there and it was really easy."
Cataract Surgery Patient 3
"Your eyes are pretty precious and you have to trust the people that are going to be working on them, and definitely the group here is great."
Cataract Surgery Patient
"My vision is totally clear. I can see everything. Everything is just plain as day... It was effortless. Everything went so smoothly."
Cataract Surgery Patient 2
"The whole world is a lot crisper and clearer and more beautiful to me right now... The whole practice is just professional and wonderful to deal with and completely gave me confidence. I've sent a few people over here already. I rave about this place."
{"video_yurl":"false"}
Eye Care Blog
After deciding to undergo lens replacement surgery, the next step for patients is to choose the lens that is most compatible with their vision goals and lifestyle. The team at Eye Clinic of Austin offers patients a range of intraocular lenses, or IOLs. With so many choices, some patients may not know where to begin […]

Refractive lens exchange (RLE) is an innovative vision correction procedure that can eliminate or significantly reduce dependence on eyeglasses and contact lenses. RLE is designed to address a number of vision issues, such as myopia, and is often a great option for patients who are not candidates for other laser vision correction procedures. The skilled […]

Every person's eyes are unique and those considering cataract surgery want effective solutions for vision correction. The EVO Implantable Collamer Lens (EVO ICL) is often an ideal choice for patients with moderate to severe nearsightedness. When the ICL is used in cataract surgery, the result is clear vision and reduced dependence on glasses and contact […]