Every person's eyes are unique and those considering cataract surgery want effective solutions for vision correction. The EVO Implantable Collamer Lens (EVO ICL) is often an ideal choice for patients with moderate to severe nearsightedness. When the ICL is used in cataract surgery, the result is clear vision and reduced dependence on glasses and contact lenses. The team at Eye Clinic of Austin is dedicated to providing patients with safe, effective vision correction solutions that improve quality of life. Learn more about the benefits EVO ICL below.
About EVO ICL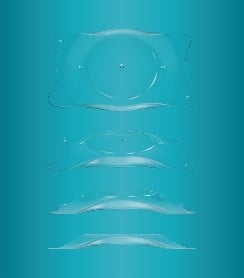 The EVO ICL is an artificial lens made of biocompatible material that is designed to work in harmony with the eye. It is placed directly behind the iris (the colored part of the eye) and in front of the natural clear lens. In this ideal position, the EVO ICL allows the eye to focus light onto the retina, creating crisp distance vision. The EVO ICL functions similarly to glasses and contact lenses but without the hassle. Additional advantages include:
Removable if necessary: Although this is a permanent solution to vision correction, the lens can be removed if necessary.
Sharp distance vision: Because of its position in the eye, the EVO ICL can help you achieve the clearest distance vision possible.
Does not cause dry eye syndrome: Tired, dry eyes are a common condition associated with some vision correction options, such as contact lenses. EVO ICL does not induce dry eye syndrome, leaving your eyes comfortable all day long.
Independence from glasses and contact lenses: Often, glasses and contact lenses are deemed a hassle, especially for athletes, or those participating in certain activities. Glasses can fog up or slip off, and contacts can make your eyes feel tired and try throughout the day. EVO ICL reduces the dependence on these corrective options after cataract surgery.
UV protection: UV rays can harm the eyes and jeopardize vision. EVO ICL offers UV protection for peace of mind.
Does not require removing corneal tissue: The EVO ICL procedure is additive; the lens can be positioned securely, and no corneal tissue is removed during treatment.
What is Collamer?
Collamer is a safe, biocompatible, premium material composed of collagen, which is a naturally occurring protein in the body. This soft yet durable material is ideal for your eyes. You will not be able to feel the lens once implanted, and it is undetectable to you or others.
Clear Vision in Austin
For more information about EVO ICL or to schedule a consultation with one of our skilled doctors at Eye Clinic of Austin, please contact us today.