Earlier today the FDA approved AcrySof IQ PanOptix Trifocal IOL, the first and only trifocal lens authorized for patients undergoing cataract surgery. 
This innovative new class of IOL design comes from Alcon and is already available in 70 countries, including Canada and across Europe. Farhan A. Irshad, MD FACS, Medical Director at Eye Clinic of Austin, is excited to start using PanOptix next week and said, "The Alcon Trifocal IOL is a new revolutionary lens design that many patients are looking forward to for improved vision with an active lifestyle."
PanOptix is expected to have a huge impact on ophthalmologists and patients alike, with Alcon already planning U.S. surgeon training and patient awareness efforts for the remainder of the year, and into early 2020.
Designed for Today's Active Lifestyles
The FDA approval came after a pivotal study at 12 investigational sites in the U.S. PanOptix patients with the single trifocal lens designs reported outstanding, uninterrupted vision. Patient satisfaction was exceptionally high, with more than 99% of PanOptix patients saying they would choose the same lens again.
The new lens uses a proprietary design that enhances intermediate vision without compromising near and distance vision. It was made with the modern patient in mind, designed to fit an active lifestyle and perform whether viewing mobile devices and computer screens or high-quality distance vision in various lighting conditions.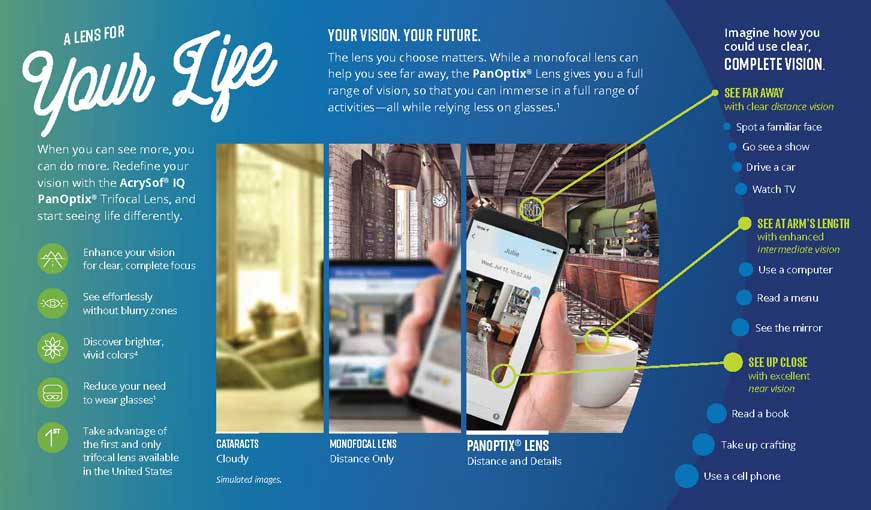 Optimal Outcomes for Cataracts Patients
Cataracts are not only the most common age-related eye condition, but they're also the leading cause of preventable blindness. This condition affects 20 million adults over the age of 40 in the U.S.
One of the greatest benefits of the new trifocal lens is that it significantly reduces the need for glasses after surgery. With more than 4 million cataract surgeries performed in the U.S. annually (a number expected to increase over 16% by 2024) this IOL will be a gamechanger for cataracts patients across the country, allowing for an exceptional range of vision while reducing the need for glasses post-surgery.
Trifocal lenses are more versatile, and PanOptix's lenses come in spherical and toric designs built on Alcon's proven AcrySof IQ IOL platform that has been implanted in more than 120 million eyes globally.
The AcrySof IQ IOL is a type of multifocal IOL used to focus images clearly onto the retina which provides clear vision post-cataract removal. The AcrySof IQ Trifocal IOL allows for optimal near (reading) vision and intermediate (computer work) vision compared to what a monofocal lens may offer. If you are undergoing cataracts surgery, the PanOptix trifocal lens may be a great option for you.
Eye Clinic of Austin is dedicated to helping our patients see better and feel better about their vision every day. Get in touch with us today for more information about PanOptix Trifocal IOL.